Account Switcher
Switch Accounts
---

Summon Name:
EverBleed
Drive Cost:
4 [Unless an EverBleed is destroyed they can live virtually forever. When destroyed however they are not reborn in The Realm of Darkness. They die in the same way a Replica would.]
Appearance Description: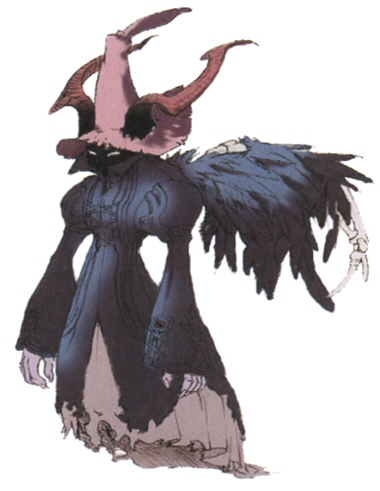 Height: 6'7 Weight: 250
Statistics:
[Scale of one to five. 5 Being high, 1 being low]
Strength : 1
Endurance : 4
Magic Power : 4
Speed : 1
Agility : 2
Abilities:
•Unscathed - EverBleed becomes intangible for two posts. Five post cooldown. 
•Restricted Methods - All people within a one-hundred foot radius are silenced for ten posts, with the exception for Cadmon and any EverBleeds currently on the field. Ten post cooldown. While active, EverBleed carries two orbs, and cannot fight offensively while wielding orbs.
•GTFOH - EverBleed targets one summon, as long as they can see the summon, the summon is immediatly deactivated. EverBleed can only use this twice per topic. Five post cooldown.
•Blessed Connection From The Dark - Everbleeds have a 50 MP pool, that intertwine with Cadmons. When using spells while Everbleed is on the field, it pulls from their magic instead. 
•Re-start - Once per topic, an Everbleed targets one user and refills their MP pool by 50 MP.
•Unrestricted Methods - While Everbleed is on the field, Cadmon cannot be silenced.
Personality:
EverBleeds are mindless embodiments of darkness. They have basic intelligence in everything with the exception for magic, which Is rather high. They are highly educated in support magics; but for an unknown reason they lack anywhere else. Like all heartless they have hungers for hearts and act as most would.
History:
Through training himself alone in EOTW, Cadmon reached a point where he was so exhausted that he puked. The vomit was a black ick that formed itself up into the first EverBleed. Through training further he managed to figure out how to form more. By pushing upwards in his stomach he can spit a large pool of black liquid out that is meshed together with Drive Power (DP). It will then aide him in battle. In short they are manifested beings of darkness that are created by chemical reactions in his stomach, but don't come to life until expelled with dark power. On their palms are heartless signs. As of now, Cadmon has created an all new species out of nothing but darkness and raw determination to surpass his idol the La Vaes.
Last edited by Cadmon on Mon Mar 23, 2015 8:12 pm; edited 2 times in total
_________________
|| CT: 2 |  MP: 120 | DP: 4 ||
| (T3)STR - 5 | (T3)END - 5 | (T2)MAG - 3 | (T1)SPE - 1 | (T1)AGI - 1 | (T2)SYN - 3 |
Understand that the statistics are relevant to the amount of DP you are putting in since you are doing them in that fashion, and not comparative to a thing that has more DP in it whose statistics may be far high than this could possibly emulate.
Ten seconds equals about two rounds (a round is how long it takes for individuals in a topic to go back to one another if they were following a posting order for combat purposes, which is approximately six seconds per round). You can say two posts.
One-hundred yards is three hundred feet for ten posts. Lower it to about one-hundred feet. In addition, on Silence effects, from this topic
here
:
Silence Effects can, so far, be generated from Dark and Nothing, with other elements pending as their review becomes relevant. To initiate a silence effect physical contact is not necessary but makes the ability cheaper, though without physical contact the ability will need to be an AoE effect. No matter what, an individual who uses silence has to hold Orbs of Magic in their hands that control the silence effect. If these orbs are dropped, destroyed, or dispelled the silence effect is terminated.
It should also be noted that, obviously, while they hold the orbs of silence, they can not use their hands for anything. That includes magic that requires hands.
If an Everbleed restores MP, they can only restore 50 MP at a time.
Your spells can still be Reflected. You aren't altering the property of Light Magic in that scenario, and Light Magic in that instance, as the force being acted upon, takes priority in terms of what effect it applies. Unless you find a creative way to prevent reflection, the spells will be reflected as they are. The same goes for Absorption Effects and Immunities. Your magic can not override them.
_________________
|| CT: 2 |  MP: 120 | DP: 4 ||
| (T3)STR - 5 | (T3)END - 5 | (T2)MAG - 3 | (T1)SPE - 1 | (T1)AGI - 1 | (T2)SYN - 3 |
Does the one-hundred foot radius move with the Everbleed or is it fixed around the point it originally was cast in for the silence spell?

While Re-start has been updated, please reword it further so that it's effect does not contradict itself, and clearly displays that it only restores 50 MP at a time.


It's fixed from where its first activated.
_________________
|| CT: 2 |  MP: 120 | DP: 4 ||
| (T3)STR - 5 | (T3)END - 5 | (T2)MAG - 3 | (T1)SPE - 1 | (T1)AGI - 1 | (T2)SYN - 3 |

---
Permissions in this forum:
You
cannot
reply to topics in this forum