Account Switcher
Switch Accounts
---

Name
: Ysl'Dae Emeraldis
Race
: Snakekin/Somebody
Description
:
Ysl'Dae is a Snakekin, a race of half-human, half-snake hybrids. Ysl'Dae is tall in stature and has a lean muscle build. She has long, green hair. tied into a ponytail, with her fringe kept long at the sides of her face. She has emerald green eyes, with slit pupils to show her reptilian nature. She has pale-white skin and her eye shapes are sharp, to give her a constant leering gaze. Underneath her eyelids, she has visible scales that are tinted green and her lips are pale and small. Ysl'Dae wears a white, hooded robe, that is tied to the waist by a chain made from a multitude of snakes. She wears an emerald green, metal breastplate over her chest and a similar colored pair of metal pauldrons on her shoulders. Ysl'Dae's hands and arms are covered by a pair of emerald green metal gauntlets, that are adorned with the images of coiled snakes. Ysl wears emerald green boots and greaves, that go up to her thighs.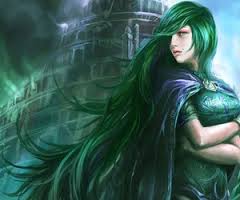 ---
History:
Ysl'Dae Emeraldis is an incarnation of a once great Snakekin warrior. Her kind had served the Darkson family for years as bodyguards. Ysl'Dae, seeing the chaos that brewed within the country she lived in, wanted an escape and way to end everything. When she was introduced to Marigold Darkson, through her parents, they connected immediately. Ysl'Dae saw death and a fire to feed the current chaos within Marigold, but was able to see the young girl's ability to lead their country to a brighter light. Not only that, but Ysl'Dae saw the charisma and willpower in the girl that eventually lead her to enlisting her service as a warrior to the young princess. Eventually, when Marigold came of age and took over the family name, Ysl'Dae was appointed as her right hand, Schwartz being the left.
From there, the three waged a vicious campaign alongside the other Darkson family members, to get rid of all competition in their way. They continued to build their empire and Ysl'Dae was in charge of the managing the army. Her skills and power on the battle field were second only to Marigold and she was evenly matched with Schwartz in certain aspects. When the conquest of the world came at an end, Ysl'Dae and Schwartz were chosen by Marigold to come with her on the excursion to find new lands to take over. This is how Ysl'Dae came to be in the world of Radiant Garden, when the Lancelot touched down on the place.
---
Primary Elements
1.) Darkness
2.) Fire
3.) Plant
4.) Earth
---
Equipment: Ysl'Dae brandishes a spiked towershield and a large, two-handed, broadsword.
---
Base Ability
:
God IS the Queen!
- Ysl'Dae's drive to protect Queen Darkson from any harm, fuels her strength and endurance. The more her queen is hurt, the more her strength and endurance increases relative to the amount of damage received by Marigold.
---
Tier One1st Skill
: Iron Wall- Ysl'Dae stabs the ground with her broadsword and brings up a large dome of steel, to shield her allies from harm. The wall lasts for one posts and has a 3 post cool down.
2nd Skill
: My Life for the Queen!- Ysl'Dae can leap from any distance to Marigold's side. When she lands on the ground, she releases a shockwave that repels all enemies without damaging them within a 30 foot radius. 3 post cooldown.
3rd Skill
: Schism- Ysl'Dae strikes the ground with her blade, which causes an earthquake that disrupts multiple opponents balance and kicks up a large cloud of dust to reduce visibility on the battlefield. 5 post cooldown
4th Skill
: Cure- Ysl'Dae raises her blade to the air and casts a restorative spell on her and two other allies of her choosing. The spell cures light wounds and has a 5 post cooldown
5th Skill
: Esuna- Ysl'Dae raises her blade to the air and lets loose a wave of restorative energy, that gets rid of all debuffs. 5 post cooldown.
6th Skill
: Reflective Shell- Ysl'Dae crouches behind her towershield and chants to create a reflective barrier, that absorbs harmful spells. The limit the barrier can take is 3 spells. 3 post cooldown.
7th Skill
:  Molten Grenade- Ysl'Dae forms and tosses a chunk of molten rock at the opponent. The rock, if it hits an opponent or the ground, will explode into a large pool of molten lava, that covers a 20 foot radius. The lava aggressively burns away and melts anyone who stays in the pool for more than a few seconds. The pool lasts for 2 posts and has a 5 post cooldown.
8th Skill
: Wall of Crisis- Ysl'Dae stabs the ground with her sword, to bring up a giant dome of rock. When the rock is destroyed by any amount of force, it releases a large pool of lava that spreads out 30 feet in radius and has a safe ring in the middle. The safe ring is 15 feet in radius. The wall automatically explodes after one post and the pool lasts for one post as well. 5 post cooldown.
Last edited by Marigold Darkson on Sun Jun 07, 2015 1:33 am; edited 2 times in total
_________________
Character Tier(5)
MP(700) | GP(10)
STR Tier(5) | END Tier(5) | MAG Tier(5) | SYN (5) | SPE Tier(5) | AGI Tier(5)

1st skill is good

2nd does the shockwave simply repel and not injure if so its good

3rd is good

4th is good

5th is good

6th what's the limit this spell can take

7th skill I'm assuming you meant to say five posts at the bottom so it's good.

8th skill how big is the safe ring, will any amount of damage break the dome when it is initially erected?



Directory

: Project Spec's


Posts

: 213



Okay, I specified what the shockwave does, the limit the 6th skill can take, fixed the "seconds" typo, and described what sort of damage can break the wall, as well as how big the safe ring is.
_________________
Character Tier(5)
MP(700) | GP(10)
STR Tier(5) | END Tier(5) | MAG Tier(5) | SYN (5) | SPE Tier(5) | AGI Tier(5)

Alright everything is good, Approved



Directory

: Project Spec's


Posts

: 213



Added a picture for the appearance portion of this profile
_________________
Character Tier(5)
MP(700) | GP(10)
STR Tier(5) | END Tier(5) | MAG Tier(5) | SYN (5) | SPE Tier(5) | AGI Tier(5)


---
Permissions in this forum:
You
cannot
reply to topics in this forum