Account Switcher
Switch Accounts
---

Name:
"Hi, I'm Charisma Adler~!"
Age:
I'm 15."
Personality:
"Well, I'm pretty shy in front of strangers, but once you get to know me I'm pretty fun and ditzy. I am pretty naive due to being from a middle-class area in Disney Town, I can admit that I'm not all that intelligent, using my emotions over logic which can be troubling when making friends. I'm overemotional when things are complicated, and I'm easily flustered when my friends or strangers disagree with me. I can't keep my mouth shut! So don't trust me with your tragic life story, because I will tell just about anyone! Sorry!"
Race:
"That's a rude and racist question! I have Arabic roots so I guess I'm mixed... Um, Oh, species? Oops, human then!"
Appearance:
"I'm not exactly a looker..." *hands in photo*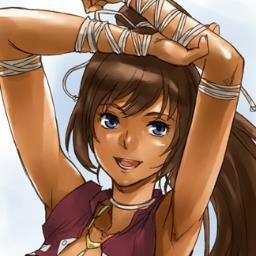 Primary Elements
1.) Light
2.) Moon
3.) Earth
4.)Ice
History:
"I was born in Disney Town, I never knew both of my parents. They dropped me off at a neighbors home and just left me there. I was adopted by a nice cat family, and I was their token human daughter. I was bullied a lot as a child for being adopted but I got over it and made my own friends. There really isn't much to my life, I'm an athlete but that's pretty much it. Chaos ensued in Disney Town, homes were lost, And I along with my family were brought into a Datascape. I was able to receive a letter from a young man who claimed to be my distant cousin, to come to Agrabah to be around family. SO I left my old family and went over to Agrabah."
Other Notes:



Posts

: 16



Approved, Welcome to the site



Directory

: Project Spec's


Posts

: 213




---
Permissions in this forum:
You
cannot
reply to topics in this forum