Account Switcher
Switch Accounts
---

Summon Name:
Adjutant Votive
Drive Cost:
2
Appearance Description: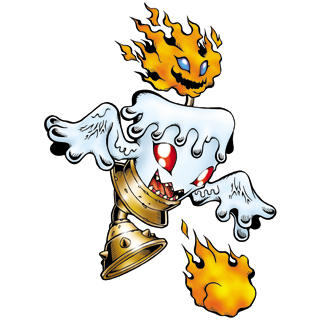 [height: Six inches] [weight: Two pounds]
Statistics:
STR: T1
END: T1
MAG: T2
SPE: T1
AGI: T1
Abilities:Torched!:
The Adjutant Votive is in twine with Jasper granting him these abilities.
While the Votive is currently summoned, all physical damage Jasper deals on the enemy is augmented with fire. If an opponent absorbs this fire for health. [-15 MP] Too them.
Blaze!:
As long as the Votive is touching Jasper, the skeleton boy may absorb 15 MP from opponent and take double the damage. This is dependant, on the votive's feelings. If it feels Jasper is near death it will not activate the ability. But if Jasper is able to eat the damage and still sustain himself the ability activates passively. [CD: 3]
Burn!:
Votive may shoot small bullet sized fireballs that do slight damage. [CD: 2] [Amount: Up to 25]d
Frightful!:
the Votive passively makes Jasper's presence harder to sence. It also warps what enemies would perceive him as. Basically he'll be scarier than normal, and what they see of him is never the entirety. Think of it like seeing something in the dark, like a monster. Turn on the bedroom light and it was just a basket or something. The power functions in that same manner.
A candle burns bright, let me burn for longer!:
All current cooldowns are subtracted by one, for every tier the designated enemy is. If it is NPC heartless, since most are tier one, it will only get a +1 post count.
Here, have something good!:
Jasper can pull from Votive's MP pool to use more power. The Votive's magic power cooldown gauge is the same as Jasper's, so his tier will control the wait times before this can be used after Votive's MP hits zero. [MP: 75]
Personality:
Adjutant Votive is a cheery, loyal, and flamboyant creature. Like a dancing cup from beast's Castle it moves around and wiggles its lower body while a flame on its head burns bright. The little inferno monster by nature likes to sneak up on people. However while in battle, it loves nothing more than to boost it's masters chances for victory. Nothing can extinguish it's compassion and loyalty, Adjutant Votive sets on Jasper's shoulder whenever in battle. Wiggling as it makes small cute noises. The summon shows signs of understanding English, but it acts in the same way a puppy would. Besides it's energetic nature and knack for mischief, the little candle is a completely innocent entity.
History:
Adjutant Votive is the spirit of Halloween Town given life, the spirit of Hallow's Eve exists in all of it's people. Jasper's heart is so strong, he is capable of willing his spirit into physical form. Whenever he needs the power of Halloween Town all he has to do is ask. Jasper met Votive when he was very young and ever since then; their friendship has been unfaltering.
Last edited by Jasper Poe on Thu Jun 18, 2015 7:41 pm; edited 2 times in total
_________________
---
| MP: 50 | Darkness - Water - Lightning - Moon |
[Directory]
|
| DP: 2 | Strength I | Speed I | Magic I | Endurance I | Synthesis I | Agility I |
| ×T×: 01 |
Burn!: Is going to need a cooldown and a limit to how many it can shoot at once. This is to avoid accidental steam rolling.

Frightful!: Keep in mind that by the way this is worded, it's an illusion passive and would only work dependent on how much the opponent is able to resist the effects.

A candle burns bright, but let me burn for longer!: This is only going to work on one opponent, so keep this in mind when picking between tiers. You also won't be able to reduce cooldowns from Tier 1 creatures either.

Here, have something good!: Just to clarify, the Votive has a 75 MP pool, yes? Tell me if it's something other. You'll pull from this pool to power up your moves, but once the Votive's pool hits zero, you can't pull from it until after your main character's MP cooldown phase correct? If so, just keep that in mind when battling
_________________
Character Tier(5)
MP(700) | GP(10)
STR Tier(5) | END Tier(5) | MAG Tier(5) | SYN (5) | SPE Tier(5) | AGI Tier(5)

Edited.

And yeah I will. ^_^
_________________
---
| MP: 50 | Darkness - Water - Lightning - Moon |
[Directory]
|
| DP: 2 | Strength I | Speed I | Magic I | Endurance I | Synthesis I | Agility I |
| ×T×: 01 |
A candle burns bright, but let me burn for longer!: Forgot to mention, you also won't be able to receive duration bonuses from Tier 1 creatures/NPCs
_________________
Character Tier(5)
MP(700) | GP(10)
STR Tier(5) | END Tier(5) | MAG Tier(5) | SYN (5) | SPE Tier(5) | AGI Tier(5)

_________________
---
| MP: 50 | Darkness - Water - Lightning - Moon |
[Directory]
|
| DP: 2 | Strength I | Speed I | Magic I | Endurance I | Synthesis I | Agility I |
| ×T×: 01 |
_________________
Character Tier(5)
MP(700) | GP(10)
STR Tier(5) | END Tier(5) | MAG Tier(5) | SYN (5) | SPE Tier(5) | AGI Tier(5)


---
Permissions in this forum:
You
cannot
reply to topics in this forum