Account Switcher
Switch Accounts
---

Name: You don't know me? I am the greatest swordsman in all creation! I AM GILGAMESH!
Age: Uhhh... I forgot. I'm, like, really, really old, though.
Species: I'm a Somebody, obviously! Fleshy body, still got a heart, and all that!
Primary Elements
1.) Light
2.) Space
3.) Earth
4.) Wind
Personality: I'm literally the greatest person in reality! HAH! Okay, maybe not. But I love a good fight, I'm honorable, and I LOVE rare stuff! Especially weapons! I'm not the kind to go lookin' for a fight, unless you start doing, like, a lot of evil. In which case, I'm PROBABLY gonna stab you until you die.
Appearance: Okay, so, history. But, first, LET ME TAKE A HASH-TAG SELFIE!
Yeaaaaaah... Quality photography right there. No filters, either. (Freakin' Bartz photobombing my awesome selfie...)
History: My legend begins in the Twelfth Century.
...Or something like that.
I used to be a King! ...Don't remember much about that, though; that far back, my memory's pretty broken. I know something bad happened to me, then, and I ended up traveling. Then, I met this weird sorcerer-tree-alien guy called Exdeath. He talked about taking this broken, twisted world, and making it new. Which sounded AWESOME! I was SO in! However, as I fought for him, I met this guy, Bartz, and his friends. As we met, and fought, again and again, I started to realize that maybe Exdeath wasn't the good guy he made himself out to be. AND I WAS CERTAIN THAT HE WASN'T WHEN HE THREW ME INTO THE RIFT!!! Of course, Bartz and his friends wound up there, soon after. I ended up helping them, by way of taking out this thing called a Necrophobe, and, I found a way to leave the Rift! I've been traveling ever since, fighting strong heroes, claiming legendary weapons, and enjoying my seemingly immortal life.
Now, then, you, enough expository banter! It's time we write like men! And ladies! And video game characters based on Sumerian kings! For Gilgamesh...
IT IS ROLE-PLAYING TIME!!!!!
Other Notes: Uhhhhh... Nope.
...Please like me.
Last edited by Gilgamesh on Fri Jun 19, 2015 9:37 pm; edited 1 time in total (Reason for editing : Fixed an element, and deleted a plot thing.)
_________________
MP 120 | DP 4
STR Tier 2 (3) | END Tier 1 (2) | MAG Tier 2 (3) | SYN Tier 2 (4) | SPE Tier 1 (1) | AGI Tier 2 (4)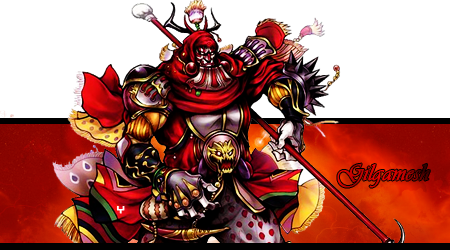 Sir your application holds too many errors.
One of which is it's very existence.
Auto Denied. ☺

No but seriously, Approved.
Altered an element, and removed a plot thing I accidentally revealed. 

Nothing major.
_________________
MP 120 | DP 4
STR Tier 2 (3) | END Tier 1 (2) | MAG Tier 2 (3) | SYN Tier 2 (4) | SPE Tier 1 (1) | AGI Tier 2 (4)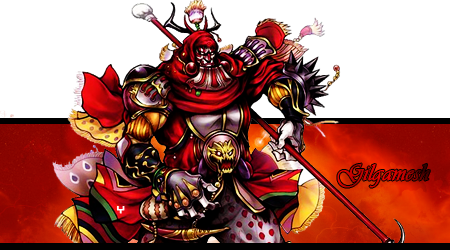 Similar topics
---
Permissions in this forum:
You
cannot
reply to topics in this forum