Account Switcher
Switch Accounts
---

Tick. Tick. Tick. Wires buzzing with electricity, gears turning with precise connections. The teeth ground against each other, instilling life into the very machine within Zeikke's hand. There were multiple varying sizes that could be heard, ringing in the Isoloid's ears. His broad eyes looked down at the device, the iris flickering through colors repeatedly. His body twitched slightly, deep down a crawling feeling of resistance throughout. The static produced by the inner mechanics of the device piqued the being's interest, some sort of tick-tocking bomb within his hands a merchant had. It was already primed and the timer turned to fifty-five minutes. Zeikke sat on a pile of dirt, his legs dangling over the edge of a cliff. He was in between the snowy mountains and the forest, tinkering with the device. It was a white, bulb-like object with a dial and a screen showing where the limb points to in terms of time. Some sort of explosive element rested within and yet, Zeikke was content with the chimes it emitted.

He had been sitting there for a half an hour, staring at the surface. The Isoloid already extracted what he needed from the bomb, but didn't know what to do with it. Letting himself slide off the cliff, he calmly landed on the ground. Pulling out a rod, he manifested his Cycler and rode in it, leaving the bomb behind. Grinding down the path of the mountains, he would turn the handle ever so slightly and curve around the turns. Tock. Tock. Tock. Zeikke had a major twitch throughout his whole body, halting his Cycler upon reaching the riverside. It disassembled into the rod and he put it away to walk towards the river. Touching it, a pulse of electricity shone throughout the imperfect water. Several fish rose to the surface, causing the snow-haired boy to cock his head. "Hm?"

You killed them, sir.
I did? They don't look dead. Maybe I should try again. What do dead things look like?
Like that, sir. I wouldn't recommend-

Zeikke opened his hand up and allowed electricity to flow into the river. Tendrils of electric would crawl into the dead bodies of fish and pull them forth. A pile was collected, and the smell of cooked fish would peruse through the noses of those nearby. Zeikke placed his arms over his knees, crossing them in his crouching position. Buzz. Buzz. He ignored the interference running throughout his head. It was starting to vex him, causing him to furl his brow because he couldn't figure out what it was from. The frail-appearing man closed his eyes, light shining from underneath his eyelids. For the most part, the body Zeikke inhabitated was his. He was told this, he believes it. Nothing could tell him otherwise. However, some sort of disruption occurred from leaving the digital pod within the Sea of Skies D5 managed. When he closed his eyes, his body stiffened and he fell inert. On the inside, his consciousness entered the Spire. The representation of the Infernal Library that made up his database.

Flowing throughout the floors of the massive database, the snowy-haired boy wondered what everything within him was for. He understood the database's information, and in fact it was an artificial intelligence of sorts. It fed into the intelligence of his body, and he directly accessed it. But looking left and right, floor after floor as he descended down the Spire, it made him wonder the purpose. His directive told him that it was to eventually build a grand library for people to peruse and learn. History. Lessons all compacted into one library. It would be great. But as Zeikke became deeper in his descent, he came upon a cell of sorts taking up a whole floor. A figure stood within, his pale face dimly lit by the embers of a cigarette. Smoke helped shroud the figure as it came out in thick volumes. Lowering himself further, Alpha had appeared at Zeikke's side.

Sir, I'd advise you to keep away from the cell. You know I cannot allow access of B250 and lower.
I know. But  I'm just...
Sir, I apologize.

Zeikke was torn from the Spire, his consciousness rejected back into reality. His eyes popped open and he stared at the dead fish. Glimpses of the man still reverberated in his eyes. A part of Zeikke still held a short-term memory, even if everything was stored in some massive database. Sighing, the Isoloid stood up, throwing his rod to his side, a vehicle fit for one person manifested. Mounting it, he laid back and looked into the sky. He just sat there, raising his hand and letting cubs manifest and collect, forming into a mechanical bird. It chirped at him happily, but he did nothing. No reaction. His face didn't move, even when he was clearly seen as the bird's mother. He let it try to fly, the mechanics not fully developed as it fell to the ground and shattered. There was so much wonder to satiate, curiosity to answer. And while Zeikke had so much stored within the Spire, the void between that he traversed...It was his true presence. The eye looking upon the rings of information within him. He was still the void. His eyes changed from their sky blue, shifting into a darker blue. Looking forward, the Cycler began to glow as it was started up.

What is this?
The simplest answer. I am who you inhabit.
And you are?
Occam.
I am 10.
I know, and don't mind me. I just woke up and I think I need a look of things for myself.
_________________
T5
MP 700 | GP 5
STR 5 | END 3 | MAG 5 | SPE 5 | SYN 5 | AGI 5
The Librarian




Posts

: 228



"Let's get down to business, to defeat..." Sang a giant of a man to himself as he walked down the road.

Ah, the Land of Dragons. It was the closest anywhere in this god-forsaken reality got to his favorite culture. He could easily have just portaled from place to place, but, he actually enjoyed the scenery, here. He'd dressed simply, and fit for the world; a series of robes, in his preferred colors of red and gray, his head and face hidden by a cloth hood, affixed to a horned mask. He didn't want to raise any unnecessary attention. ...Not yet, anyway; he wasn't looking for a spar, just now.

The smell of cooked fish from the nearby river, though, took his mind off the road. He immediately turned toward it, having not eaten since the night before. Perhaps whoever this was had enjoyed a good day of angling.

...The last thing he expected to see, though, was a kid who looked like he played children's card games to determine the fate of the world. ...He wasn't sure why he thought that, but, he did. Of course, Gilgamesh had long since stopped trying to understand why his brain came up with these strange ideas. Usually just chalking it up to his madness, he regarded them as little more than humorous whimsy. ...He wasn't sure how the kid turned a fishing pole into a chopper, or how he made a bird out of nowhere. But, hey, there was still fish! Now, how to introduce himself...

"Hey. You look cool. Nice bike. LET'S EAT SOME FISH!"

...Nailed it.
_________________
MP 120 | DP 4
STR Tier 2 (3) | END Tier 1 (2) | MAG Tier 2 (3) | SYN Tier 2 (4) | SPE Tier 1 (1) | AGI Tier 2 (4)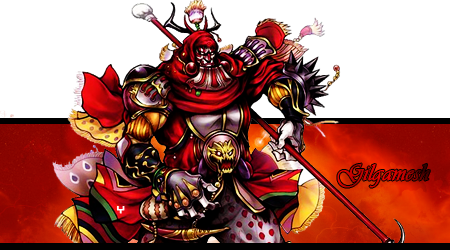 Legendary Swordmaster





Posts

: 44



Occam realized that there was someone approaching, turning his eyes over to the red-clad giant. He let out an unimpressed sigh, realizing the moment he gained some sort of control over the dataloid that he ran into some idiot. Someone who clearly disregarded the fact the dataloid just killed a whole school of fish. The simplistic creatures of the worlds disregarded the deaths of the weaker, which made the Iso wonder what the death of one human meant to another. Or even what it meant to be alive if one wasn't as organic as society had a taste for. The Iso wasn't organic, yet he existed in some sort of fleshy form within the real world. Which brought up another question: what makes the datascape any less real? Do humans really believe that having different properties and weaknesses and ingredients made something any less real?

Occam squinted his at the knightly-looking man. Breaking down the Cycler into its dormant form, the Iso held out his hand in greetings. "Well, I appreciate the compliment. I don't think I have the appetite for fish right now, you can have all of them." The dataloid within realized that he was within the prison that he viewed from before. The Iso seemed to have traded places between the two. In fear, the dataloid turned into a cube while within the spire. The real body was now under control of the Iso for the moment, and the two felt the temporary stance of things. The dataloid was still capable of seeing through Occam's eyes and maintaining the senses he had before. They simply shared those. "I should introduce myself. My name is Zeikke. I feel it is polite to take the initiative. And your's my very loud friend?" D10 was surprised by the fluent speech of Occam's. Unlike the dataloid, the Iso seemed to understand humans and talk on and beyond their level with their own language.

You know how to interact?
Don't worry, dancing around the simple ones with words isn't particularly hard. Interaction is simplistic. Just requires simple speech.
Can...Can I try?
The audacity, young one. Give me some time. You and I both know I can't just exhaust myself with this position. Not yet.
_________________
T5
MP 700 | GP 5
STR 5 | END 3 | MAG 5 | SPE 5 | SYN 5 | AGI 5
The Librarian




Posts

: 228




---
Permissions in this forum:
You
cannot
reply to topics in this forum