Account Switcher
Switch Accounts
---

---
---
|| Sin ||

Female | Thirty-Nine | Somebody
---
---
Appearance
> Physical Appearance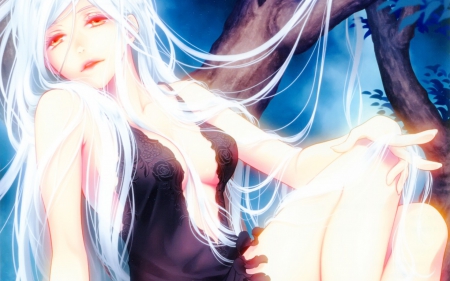 > Outfit Description
---
---
Personality
Ruthless. Cold. Psychopathic. These words and more describe the murderous woman named Sin. She has no qualms with killing a person, for any reason. Even just to hear them scream. She loves to indulge in pleasures of the body and mind to no end. She loves to immerse herself in the chaos she creates. Most of all, she loves to make her family happy. In light of this, she was 'trained' to behave.

As she was told, Sin has adjusted herself for their new home in this new universe. Resisting the urge to slaughter those who they would have normally saved, she toned it down to be more homely. Sweet and caring, yet mischievous and suggestive. Just because she's simmered down, doesn't mean she has to be saintly.
---
---
Primary Elements
---
---
History
A rather mysterious visitor from another universe who's here to stay, Sin is a rather mischievous woman. After an odd sort of rehabilitation to dull her… exotic ways, she turned to the arts to occupy her time. Singing, dancing, painting - and usually in the color red - she found other ways to express herself. Many other ways.
---
---



Posts

: 9



_________________
Character Tier 5
   MP 535 | DP 14
   STR 10 Tier 5 | END 10 Tier 5 | MAG 10 Tier 5 | SPE 10 Tier  5 | AGI 10 Tier 5 | SYN 0 Tier 0
Veara Portfolio



Posts

: 1732




---
Permissions in this forum:
You
cannot
reply to topics in this forum