Account Switcher
Switch Accounts
---

Ellie
The Torpid Spring
Age:
200 years
Species:
Somebody, Marid
Primary Elements
1.) Light
2.) Illusion
3.) Water
Personality:
As a terrible side-effect of travelling through universes, Ellie's psyche has been rendered unable to mature. In consequence, she is stuck with the mind of a grade-schooler. She thinks and speaks in simple words and phrases, often making use of circumlocution to describe something she doesn't understand. However, she doesn't talk very often; this is not out of shyness, but because her mind and attention frequently changes subjects--much like an inconsistent river flowing from one location to the next. She has a sweet nature, unafraid to make friends or involve herself in interesting events. She's quick to make friends and becomes very attached to those who reciprocate her friendliness. Her innocent appearance and cute personality have a way of charming adults, oftentimes prompting them to buy her sweets or other gifts. The Djinn has an extremely optimistic outlook on life, believing everything is fine and dandy even if it isn't. This naivete has protected her from a vast majority of the horrors of the world.
Appearance: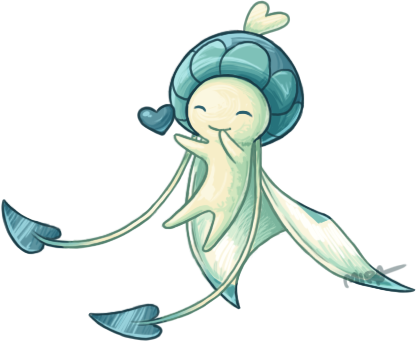 As a demon, Ellie has Illusion-based abilities that allow her to alter how she is perceived. Her favorite appearance (other than her natural one) is that of when she was
human
, albeit with her hair colored blue.
History:
Long ago, Ellie was a young human girl who was born with the ability to control water. From a young age, she and her best friend (a boy her age) experimented with her powers, but gained only rudimentary control over them. She would be unable to develop them completely; when she was a grade-schooler, disaster struck her home. A swarm of strange creatures, large lizards that spewed fire from their tails and mouths, burned her house down. As a result, her entire family died. Strangely enough, the girl herself did not die a normal death: her soul departed this universe, traveling through time and space. Along the way, her spirit merged with another--a water elemental. This would enhance her inherent affinity to the element when she was reborn as a Marid. Unfortunately, the trip also had an irreparable side-effect: Ellie would be unable to mentally or physically age. She wandered the worlds for years and years, enjoying life without a care in the world. She never got bored, but often felt lonely as everyone she met eventually grew older than her and died. As a Djinn, she was frequently granted the wishes of her friends, but secretly wished she could grant one of her own: to find a friend that would never abandon her, and to meet her best friend from back homeagain.
Other Notes:
[Her first encounter with Lucio will be roleplayed out. Her elements will remain three for now.]
_________________
Character Tier(III)
MP(300) | GP(3)
STR Tier(3) | END Tier(3) | MAG Tier(1) | SYN Tier(1) | SPE Tier(2) | AGI Tier(4)




Directory

: The Twilight Faerie


Timeline

: Volume I


Posts

: 30



_________________
Character Tier(III)
MP(300) | GP(3)
STR Tier(3) | END Tier(3) | MAG Tier(1) | SYN Tier(1) | SPE Tier(2) | AGI Tier(4)




Directory

: The Twilight Faerie


Timeline

: Volume I


Posts

: 30



_________________
Character Tier 5
   MP 535 | DP 14
   STR 10 Tier 5 | END 10 Tier 5 | MAG 10 Tier 5 | SPE 10 Tier  5 | AGI 10 Tier 5 | SYN 0 Tier 0
Veara Portfolio



Posts

: 1732





Similar topics
---
Permissions in this forum:
You
cannot
reply to topics in this forum