Account Switcher
Switch Accounts
---

Jett
Heartless
Pureblood | 16 | Male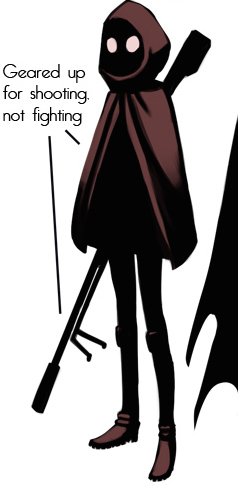 Darkness | Wildfire | Moon
---
---
Weapons
Death Twins
Two regular katanas 4'' in length coloured black. They hold no magical enchantments or abilities.
[x]
Night's Watch
A long distance rifle that hold 5 bullets per each round. Jett can hold two rounds per topic and is unable to move while using it.
[x]
---
---
Base Ability
:
Jett's body is mostly made up of darkness, a strong part of him is also made of fire. Passively, his body is always warm and on physical contact others can feel his heat immensely, however it leaves no damage. For 6 posts, Jett is able to increase the levels of fire in his body to make him extremely hot to come nearby, on physical contact foes will receive moderate burn damage.
Base Ability Cool Down
:
25 posts.
---
---
Tier One1st Skill
: Jett is able to shapeshift into any heartless below the power level/tier of a Neoshadow, gaining all their physical abilities to move.
2nd Skill
: Jett is able to enter the Realm of Sleep and be aware of his situation.
3nd Skill
: Jett is able to enter the dreams of others who are sleeping by being in physical contact with them. He is completely aware and leaves the dream when he wishes to or when the person dreaming wakes up.
4rd Skill
: Jett can cast a shield upon himself or an ally which grants them protection over any one physical attack. Cooldown: 5 posts.
5th Skill
: Jett is able to see in all kinds and levels of darkness passively.
6th Skill
: Jett is immune to effects that alter his mind and feelings.
7th Skill
: Jett is able to augment any of his offensive skills with wildfire, adding moderate burn damage and possible moving of targets.
8th Skill
: All of Jett's weapons and armor are able to be summoned from darkness.
---
---
Tier Two1st Skill
: Jett is capable of flight, moving slightly faster than he would on ground.
2nd Skill
: Jett is able 'set' fire to his weapons in use for 6 posts, dealing additional burn damage to damage already caused when hit by a weapon of his. Cooldown: 10 posts.
3rd Skill
: When an illusion or mind altering spell is set on Jett it reflects back at the user. Cooldown: 5 posts.
4th Skill
: Jett is able to cast a shield of  lunar energy over an ally granting them immunity to mind or illusion spells for the duration of 6 posts. Cooldown: 10 posts.
5th Skill
: Jett can absorb the element of fire passively regenerating his health.
6th Skill
: Jett shoots a blast of fire and wind from his hand which can reach up to a moderate distance. As soon as the blast comes in contact with a person it gives a large explosion dealing second degree burns and a strong push backwards, often throwing the target through the air and back. Cooldown: 10 posts.
7th Skill
: Jett is able to place an orb of lunar energy around any person on the field within a 20 metre range of him, shielding them from any physical attacks but also immobilizing them for one post. Once per topic.
---
---
Tier Three1st Skill
: Jett creates a shield of wildfire around himself and all other allies within a close range of him. The shield lasts for 4 posts, blowing and burning away any magic spell or skill equal or below the level of a ga-level spell (eg.Thundaga). Cooldown: 20 posts.
2nd Skill
: Jett can emit wildfire that spins around his body, reaching a max of one metre in distance. The flames deal second degree burns and give a small push back to enemies.
3rd Skill
: Jett is able to passively shoot fire from his hands as if he was throwing it, the range it makes is relevant to how hard he throws. Damage dealt by this fire is moderate with small burns.
4th Skill
: Jett is able to let out a pulse of moon energy that makes it easy for others to be persuaded within a close range of him. Does not work on nobodies or programs. Cooldown: 7 posts.
5th Skill
:  Jett can create a wildfire that moves him in any direction of his choice at a high rate of speed. In his trails are traces of fire, if someone is caught in them receive small to moderate burns. Cooldown: 4 posts.
6th Skill
: If the field is covered with fire, all of Jett's skills get kicked up a notch, dealing one level of more damage and defensive skills blocking a level higher.
7th Skill
: Jett explodes, killing himself. The explosion is massive and deals a high amount of damage to those caught in the explosion. To those nearby Jett when he explodes the damage is critical. All damage dealt comes with second to third degree burns. To explode Jett must activate this skill 5 posts prior to the explosion itself. Once activated he will countdown a number aloud per each post to give those that know what is going on a chance to get away.
Last edited by Ophelia on Tue Feb 17, 2015 8:07 pm; edited 2 times in total
Edit his fourth skill on T3 to say it does affect Programs as well.

With the seventh skill in the same tree, you don't need to start that he will re-manifest in the ROD, as all Heartless do so when not destroyed by a Keyblade.

---
Permissions in this forum:
You
cannot
reply to topics in this forum