Account Switcher
Switch Accounts
---

Name:
Morgan Ryan
Age:
Approx. 21
Personality:
A fairly self-centered young woman, Morgan is a cheerful and excitable person. Doing almost everything she can to please herself, she sees everything as a new adventure with a new treasure at the end for her. Viewing most sentient beings as more trouble than they are worth, she treats any and all with disdain, believing that their bickering causes too much damage to the stability of worlds. Still, she does harbor respect for those who would put the safety of worlds above themselves or others.
Race:
Somebody
Appearance: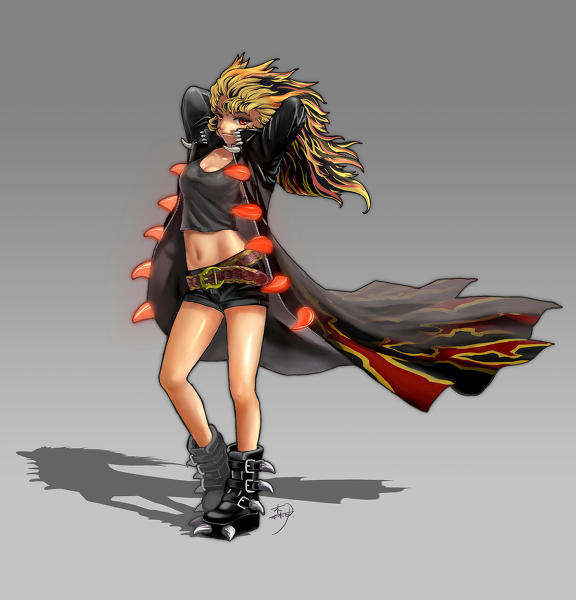 Primary Elements
1.) Darkness
2.) Lightning
3.) Metal
4.) Water
History:
Morgan Ryan was raised in the streets of Traverse Town, far too young to recall which world she was born within. Her family a blur, and little to no friends to speak of aside from the occasional animal, essentially left to be raised by the world itself. In her heart, she harbored resentment towards people, fueled by the abandonment she felt and experienced. As the years came and went, she soon came into the presence of a young woman, someone who seemed to care for her, helping her despite her attitude. For years, the woman took care of her, and Morgan soon found herself returning the care. Without even realizing, Morgan started to enjoy the company of people, slowly emerging from her shell.
She was happy, finally wanted in the world. But such peace can only last so long.
One day, the worst thing that could happen to Morgan finally came to fruition. Her companion was caught in the midst of a fight between a pair of drunken thugs at night. It happened so fast, but she was far too late. By the time that Morgan finally found her, she was alone, the street in ruins and flames. The scene forever burned into her mind, Morgan entered into a rage, viewing any and all humans as a scourge upon the peace of the worlds. Shunning all interaction, she entered into a self-imposed exile, before emerging, opening up slightly, but with the full intention of requiring pawns to fulfill her own selfish desires. Even still, she did her best to protect the worlds whenever necessary, holding onto the hope that there could be more like her fallen ally.
Her intended goal was a simple one: Ruin those too smart to be safe. It made sense to her. Right now, that's all that matters.



Posts

: 15





Similar topics
---
Permissions in this forum:
You
cannot
reply to topics in this forum