Account Switcher
Switch Accounts
---

Summon Name:
Shiva of Faith
Drive Cost:
9 DP
Appearance Description: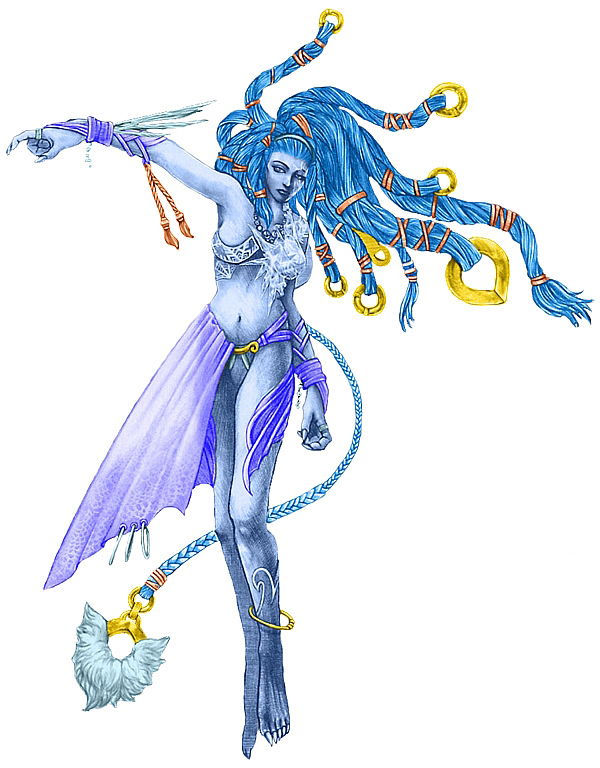 Statistics:
Shiva is a powerful Aeon, with very high statistics. Yet, her primary focus is on speed and agility. Her raw magic power is high, but her ability pool is limited.
Abilities:


Cold Shoulder- Shiva can absorb Avalanche and Ice-based attacks.

Heavenly Strike- Shiva uses raw magical energy to deal massive damage to a single small area within a large range of her location. The foes in this area are paralyzed for one round. Cool Down: 4 posts. Post Cost: 5 Posts

Diamond Dust- Shiva uses her mightiest ability and calls down a torrent of ice over the battlefield, freezing everything in a solid sheet within 200 feet of herself. Everything caught in this sheet takes massive damage. At a snap of her fingers, this sheet ruptures which deals massive damage yet again, and then violently shatters, dealing beyond massive damage to those caught within the ice. Cool Down: 20 posts. Post Cost: 20 Posts

Personality:
Shiva is the last, powerful dream of a cloistered nun from the city of bells, who died as as a saint would among her fellows. Shiva is a collected and deliberate entity, demonstrating a level head and great judgement in even the most dire of situations. Shiva prefers to control the battlefield with her speed and her abilities, putting enemies at risk of suffering a very unpredictable attack.
History:
"Do not mourn me, for I die satisfied."
Last edited by Alexander on Sun Aug 02, 2015 4:23 pm; edited 2 times in total



Posts

: 356



Heavenly Strike- Give a range for this.
_________________
Character Tier(5)
MP(700) | GP(10)
STR Tier(5) | END Tier(5) | MAG Tier(5) | SYN (5) | SPE Tier(5) | AGI Tier(5)




Posts

: 484



_________________
Character Tier(5)
MP(700) | GP(10)
STR Tier(5) | END Tier(5) | MAG Tier(5) | SYN (5) | SPE Tier(5) | AGI Tier(5)




Posts

: 484




---
Permissions in this forum:
You
cannot
reply to topics in this forum