Account Switcher
Switch Accounts
---

---
---
|| Destinie Darkson ||
Female | Fifteen | Somebody
Student
Image References
>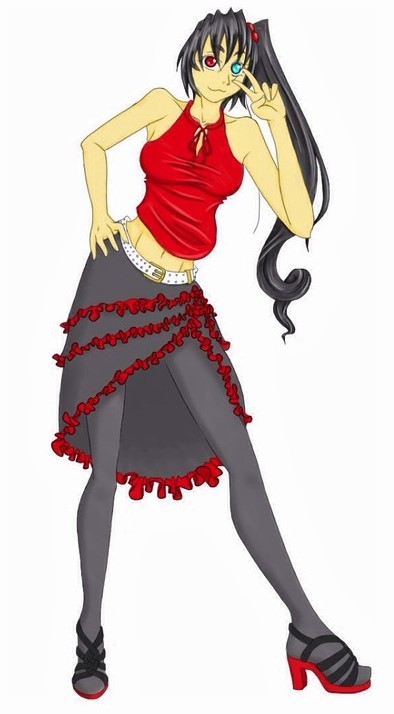 <
---
---
Appearance
>  Physical Appearance
This young lady stands at 5'7, and weighs about 130lb. She doesn't appear to be very muscular, but she sports a pretty toned body underneath her womanly curves. Long, jet black hair is typically tied up in either pigtails or a side ponytail,and frames a pair of mismatched eyes. Her heterochromia is the same as her twin's, with the left eye being a silver-blue color, and the right being a crimson red. With smooth, porcelain skin, she has a light-skinned complexion, and a tiny beauty mark at the corner of her right eye.

> Outfit Description
Destinie, when at home or when off duty, prefers more casual wears. Being raised the way she was, her attire typically takes on the Darkson colors of black and red. Her top is a loosely fitting, red halter top with a keyhole, that shows a couple of inches of her midriff. Her black skirt is lined with red ruffles along its three tiered design. The dramatic slit along the left leg comes up to her mid-thigh, her legs being dressed in black leggings. She wears a pair of black, open-toed heels that have red soles.

When in battle, her clothes are more functional. Flexible and versatile, it has armor in key places. Its color theme if red and black.
---
---
Personality
Destinie and Fayt were very much mirror images of one another when it came to personalities as toddlers. They were straight-faced, calm, and very intelligent for their age. There wasn't a single thing that they didn't do together. Always connected by hand. Completing each other's sentences. Growing extremely irate when forced to be without the other for extended periods of time.

After a period of growth took place, the two began to individualize and become their own people. They were able to part from each other, and Destinie grew the emotions her other seemed to lack. She's very hot and cold to just about everyone. Displaying many Tsundere traits, she can appear to be short-tempered and cold on the outside, but truly and deeply cares for her friends and family.
---
---
Primary Elements
Darkness || Thunder || Metal || Space
---
---
History
Destinie grew up in a loving home, alongside her twin Fayt, and their older brother Arthur. The three were never left wanting, and would have been very spoiled if their mother, Tsumiko, had her way. Gwain, their father, seen to it that they were raised proper and with that Darkson touch.

Destinie had always been the powerhouse of the twins, and took up physical attacks. The only magic she ever found a use for was to boost those physical stats. Healing and the like was her twin's schtick. And so she trained with her father and Arthur in the art of swordplay. But swords just weren't for her. After a series of trial and errors, it was found that Destinie much prefered a pair of sturdy twin hatches in her palms. Once she learned all that she could from Gwain, Destinie sought out further guidance in the art of battle. Her next master? Veara, himself. The training wasn't easy, but she somehow managed to come out of it alive.

She entered the Darkson Cup hoping to prove herself to both family and friends that she wasn't just a pretty face that hid behind her brothers. Her victory against Fayt was hard won, but Destinie knew her brother better than that. Staging the defeat as something official, she knew that he threw it, for whatever the reason. Sadly, she lost in just the next match.

Taking that defeat, and keeping it close to heart, Destinie set out to train herself even harder. While doing so, she trained alongside her childhood friend, Luke, whom her family had taken in at a young age. It didn't take much for them to bond, and eventually that friendship blossomed into something a little more. Something that they'd take to the Academy that they chose to attend together, along with their family and friends.
---
---
Last edited by Destinie Darkson on Sat Apr 01, 2017 2:20 pm; edited 2 times in total



Posts

: 28



_________________
Character Tier(V)
MP(700) | GP(5)
STR Tier 5 | END Tier 5 | MAG Tier 5 | SPE Tier 5 | AGI Tier 5 | SYNTH Tier 5



Posts

: 607






Posts

: 28



_________________
Character Tier(V)
MP(700) | GP(5)
STR Tier 5 | END Tier 5 | MAG Tier 5 | SPE Tier 5 | AGI Tier 5 | SYNTH Tier 5



Posts

: 607




---
Permissions in this forum:
You
cannot
reply to topics in this forum