Account Switcher
Switch Accounts
---

Name:
Griffin Yorke
Age:
15
Species:
Somebody/ Student- Male
Primary Elements:
1.) Light (Heart Element)
2.) Time (Advanced Element)
3.) Thunder (Primal Element)
4.) Wind (Primal Element)
Personality:
The easiest way to describe them without confliction would be to say that he is confusing. Sometimes he prefers to be alone, a silent wolf on his lonesome, able of both great chaos and great beauty. Other times he can be a social Butterfly, reveling in the presence of others. The only things that are constant are his quirks, being obsessive over number patterns and the color Orange. Why? He has no Idea.
Most of the time, Griffin can be quite hyperactive, clueless of situations, but will overthink if he notices odd things, due to a bad experience in his past.
Dislikes:


People lying to him, which he can pick up with varying ability, depending on the person.
Blue colors (Including the ocean)
Inconsistent Number sequences
Coffee
Slow moving people

Likes:


Tea
Sweet Foods (Mostly Desserts)
Cold Weather
Long Books

Appearance: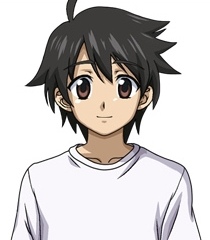 5'7" with an average build
History:
Griffin was always a strange child, even amongst his large family. When he was very young, he spent his days on the streets of Twilight town etching numbers onto the cobble and confusing passersby when he asked them why he wrote those particular numbers (Squared Fibonacci, if you want to know). One particular day, a 6-year-old Griffin tested the wrong guy. The man was a sort of Mercenary with a bad temper, and feeling like an idiot chased Griffin out of town into the nearby woods.
Griffin didn't stay there, however, returning after dark to find that, when the Mercenary couldn't find him, instead slaughtered his family, leaving only him and a Distraught Father, who turned to alcohol for relief. Griffin spent less time outside with his numbers, and more time inside reading books.
After years of listening to his drunk Father ramble on about Griffin's faults, he decide he had enough. He boarded the Ship to Disney Academy, for a chance at a new life.
Last edited by Griffin on Thu Mar 23, 2017 8:44 am; edited 1 time in total
A Somebody can't have a combination element as an affinity.
_________________
Character Tier(V)
MP(700) | GP(5)
STR Tier 5 | END Tier 5 | MAG Tier 5 | SPE Tier 5 | AGI Tier 5 | SYNTH Tier 5



Posts

: 607



_________________
Character Tier(V)
MP(700) | GP(5)
STR Tier 5 | END Tier 5 | MAG Tier 5 | SPE Tier 5 | AGI Tier 5 | SYNTH Tier 5



Posts

: 607





Similar topics
---
Permissions in this forum:
You
cannot
reply to topics in this forum