Account Switcher
Switch Accounts
---

Summon Name:
Valefor
Drive Cost:
6 DP
Appearance Description: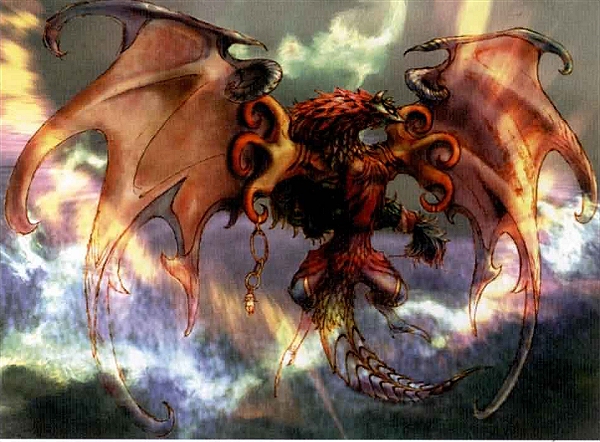 Statistics:
Valefor doesn't hit very hard, and it can't take a whole lot of damage, but the creature is quite agile and extremely fast. While it isn't very strong, it can carry Alexander and a few others his size with ease, and while it doesn't have a large repertoire of abilities, the abilities it does have prove quite effective.
Abilities:


Levitation- While Valefor is not immune to the effects of space, it specifically can not be affected by gravity-altering effects.

Sonic Wings- Valefor can flap its wings to disrupt space while displacing wind. It blows back all who are in a twenty foot range of Valefor and unsecured nearly twenty feet, but if a person is secured properly they can resist this. This technique also disrupts the equilibrium of those caught within, and they lose balance for a single post. Those with high agility may resist this effect.
Cool Down: Four Posts. Cost: Two Posts

Energy Ray- Valefor can fire a beam of raw energy at the ground, causing it to swell and explode beneath foes. This deals massive non-elemental damage in a range of thirty feet. However, being caught directly in the being deals additional massive damage.
Cool Down: 10 Posts. Cost: Six Posts

Energy Blast- Valefor fires five overcharged Energy Rays in rapid succession, each one slightly more powerful than a standard Energy Ray. This technique can not be used if Energy Ray is on Cool Down. Using this ability will trigger the cool down on Energy Ray.
Cool Down: 30 Posts. Cost: 10 Posts

Personality:
Valefor is the last, powerful dream of a frightened little girl trying to escape the darkness. Despite this dark origin, Valefor is a playful and innocent entity, demonstrating altruism and kindness even in combat. It most prefers to use its speed to confound and confuse foes while outmaneuvering even the fastest of spells. It doesn't enjoy inflicting harm, but when its anger rises it unleashes its powerful overdrive, Energy Ray, and when pushed to the limit will use Energy Blast as a final attempt to end a fight.
History:
"Why won't the ship start...? Mommy, you said we could fly! You said we could fly away!"
"Shh, shh it's okay. It's okay. Just- just give mommy a second okay? I've almost got it fixed."
"Mommy... there are eyes..."
"Huh?"
"There are eyes... in the shadows..."
The Prince of Dreams




Posts

: 207






Posts

: 356



The Prince of Dreams




Posts

: 207



_________________
Character Tier(5)
MP(700) | GP(10)
STR Tier(5) | END Tier(5) | MAG Tier(5) | SYN (5) | SPE Tier(5) | AGI Tier(5)




Posts

: 484





Similar topics
---
Permissions in this forum:
You
cannot
reply to topics in this forum