Account Switcher
Switch Accounts
---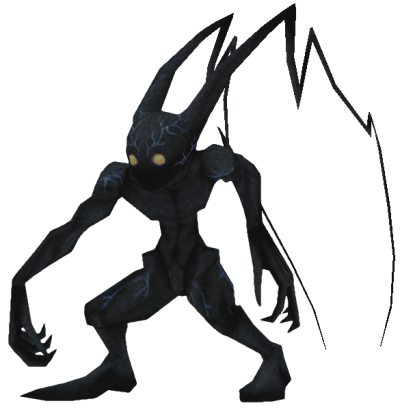 Summon Name:
Horde
Drive Cost:
8
Statistics:
10 Neo-Shadows
STE: T4
END: T3
MAG: T3
AGI: T2
SPE: T4
SYN: T1
Abilities:
Neo-Shadows are made from the darkness, and so passively gain a moderate boost to END and STR whle in darkness, while also passively healing Slight damage every post when in darkness.
Neo-Shadows can passively melt away into darkness and move around, unable to both deal and receive any damage.
Neo-Shadows can extract the hearts of any Somebodies they defeat, granting Edis access to those hearts.
Each of the Neo-Shadows can create portals on the ground and sink into them, usually all at once. Then, they will create their portals anywhere within the area (either in the air or on a solid plane) and dash out of the portals towards their target(s), either all at once or in small groups to create a savage onslaught.
CD: 4
A singular Neo-Shadow can create a portal into the darkness and sink into it, before moving unnoticeably towards the target. The Heartless can then grab the legs of the target and drag them into the darkness to deal severe darkness damage. Or, the Neo-Shadow can hold the target in place, preventing them from using any MP or GP based abilities (including but not limited to: Summons, Drives, Abilities). This hold can be broken with T4 Strength.
CD: 5 per Heartless
Personality:
Mindless Heartless creatures that follow Edis' order blindly and without question.
History:
Using his powers of darkness, Edis was able to form and summon these creatures from the shadows.
Last edited by Edis Rehtona on Mon May 23, 2016 10:09 am; edited 2 times in total
_________________
Character Tier(3)
MP(300) | GP(9)
STR Tier(4) | END Tier(4) | MAG Tier(3) | SYN Tier(5) | SPE Tier(3) | AGI Tier(3)
This is fine please note however their strength you called for five so they'll be a five

However it'll be five as in its top strength for a t2 at most
_________________
Character Tier 5
   MP 535 | DP 14
   STR 10 Tier 5 | END 10 Tier 5 | MAG 10 Tier 5 | SPE 10 Tier  5 | AGI 10 Tier 5 | SYN 0 Tier 0
Veara Portfolio
Not sure if I understand what you mean? Do you mean

5 summons - T5 STR
10 summons - T4 STR
15 - T3
20 - T2

If so, does that apply for all stats? Or just strength?
_________________
Character Tier(3)
MP(300) | GP(9)
STR Tier(4) | END Tier(4) | MAG Tier(3) | SYN Tier(5) | SPE Tier(3) | AGI Tier(3)
As in certain summons are only so strong

1-3dp 1-2 tier

3-6dp 3 tier

7-8dp 4 tier

9 5 tier


Currently as two you have twenty neoshadows and they're tough but not that tough


_________________
Character Tier 5
   MP 535 | DP 14
   STR 10 Tier 5 | END 10 Tier 5 | MAG 10 Tier 5 | SPE 10 Tier  5 | AGI 10 Tier 5 | SYN 0 Tier 0
Veara Portfolio
Didn't realise that, edited the cost and stats to reflect the tier
_________________
Character Tier(3)
MP(300) | GP(9)
STR Tier(4) | END Tier(4) | MAG Tier(3) | SYN Tier(5) | SPE Tier(3) | AGI Tier(3)
Lower the amount by half and we'll be good
_________________
Character Tier 5
   MP 535 | DP 14
   STR 10 Tier 5 | END 10 Tier 5 | MAG 10 Tier 5 | SPE 10 Tier  5 | AGI 10 Tier 5 | SYN 0 Tier 0
Veara Portfolio
_________________
Character Tier(3)
MP(300) | GP(9)
STR Tier(4) | END Tier(4) | MAG Tier(3) | SYN Tier(5) | SPE Tier(3) | AGI Tier(3)
_________________
Character Tier 5
   MP 535 | DP 14
   STR 10 Tier 5 | END 10 Tier 5 | MAG 10 Tier 5 | SPE 10 Tier  5 | AGI 10 Tier 5 | SYN 0 Tier 0
Veara Portfolio

---
Permissions in this forum:
You
cannot
reply to topics in this forum