Account Switcher
Switch Accounts
---

Name:
Elizabeth "Eliza" Marnath
Age:
 17
Species:
Somebody - human
Primary Elements
1.) Dark
2.) Metal
3.) Thunder
4.) Space
Personality:
Elizabeth is a friendly, but not very chatty, person. She prefers working in a smaller team with perhaps two to four people, so that each member of the team can get to know each other more. When working within a large group, she tends to not stand out; she follows the rule and perform her duties as competently as a soldier on mission, but however, having extended interaction with a large number of people secretly drain out her energy a lot, and that she would need to take a break by herself to recharge. Elizabeth has a curious and adventurous soul, in her time off, she enjoys exploring new places. She is brave and courageous and likes to explore the unknown region, but with a child like excitement for the chance of an adventure, her curiosity could sometimes lead her into trouble. When there is a confrontation situation, Elizabeth favors a more passive approach, observing the situation before she acts, and often more to the point in her manners of speech, she lacks the finely-tuned social abilities. She usually carries herself in a relaxed, carefree and calm manner that could sometimes mistake by others as either aloof or air head. Despite her normal attitude towards everything, when in combat, Elizabeth becomes very serious and focus, and with a hunter like mentality, she quickly takes in the situation before taking any actions, mostly strikes to disarm and to contain the situation and to resolve the conflict with minimal casualty as possible, but when the circumstances become grave, she can do what is necessary to end the fight.
Appearance:
Elizabeth has long straight black hair loosen up and fallen all the way past her waist, she has hazel color  eyes with a mole at the left side beneath her lips, standing to around 5'4, she looks slender and healthy if not a little on the skinny side.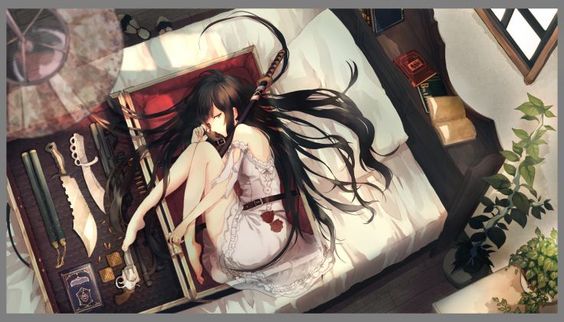 History:
Elizabeth is a child of a Japanese and American household, she has an older brother name Eden who came from a previous marriage, thus making Eden her half brother. When Elizabeth was small, she used to like Eden a lot, she likes the idea of having someone who could always play with her no matter what and even after school when all her friends having to go home. But for reasons that her younger self could not understand, Eden seems to hate her, and would never willingly play with her. As Elizabeth grows older, she started to dislike Eden's attitude towards her more and they grow even more apart, to the extend that today, that they barely spoke to one another. Elizabeth's father has a job that relocate a lot, as a result the whole family also moved around quite a bit, even though Elizabeth still makes new friends, she lost contact with her old friends and eventually, she gives up on investing time on reaching out to her old friends, preferring to stay at home and living in her own world in video games. She admires the heroes and their adventures, to the extent that she wanted to be one. One day when she was walking back from school by herself, a shadow portal appears along side the road just beside her, she was unfortunately got caught in by the portal and awaken in an unknown world, and her adventure begins then.  
Other Notes:
Even though her heart element is Dark, she is a hero type character, very helpful and basically unlikely to kill anyone.



Posts

: 1



_________________
Character Tier(V)
MP(700) | GP(5)
STR Tier 5 | END Tier 5 | MAG Tier 5 | SPE Tier 5 | AGI Tier 5 | SYNTH Tier 5



Posts

: 607





Similar topics
---
Permissions in this forum:
You
cannot
reply to topics in this forum